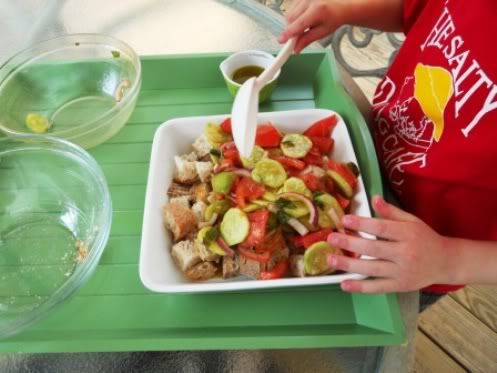 Panzanella Salad
As a family, we eat relatively healthy, but we could do better. No one is over weight and we want to keep it that way and teach our children nutritious eating habits. I know I share a lot of our indulgences, but they really are just a once in a while thing.
We made a panzanella salad this day for dinner.
Little Sassyfras helped pick some fresh basil from our sensory garden and mixed the veggies for our salad.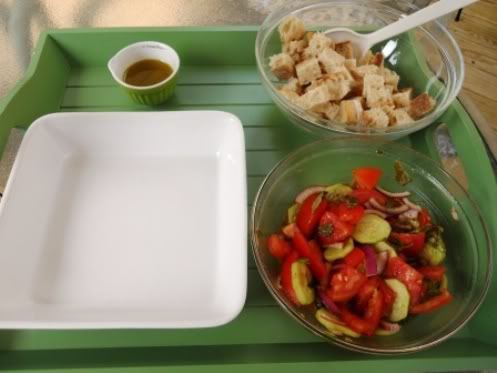 Slice one tomato, one cucumber, 1/2 of a red onion and toss together in a bowl. Tear a small bowl of fresh basil and add to the other veggies. Add about 1/3 cup of olive oil and 1/4 cup balsamic vinegar and toss. Sprinkle with a little salt and fresh ground pepper. Cover and chill.

(Two out of my 3 kids like this salad, but not the onions. I just made them a separate salad without the onion.)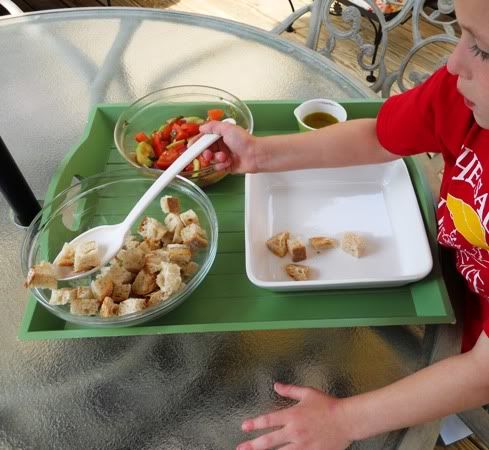 About an hour before serving, cube some good, crusty bread. Put the bread in a shallow serving dish and pour the veggie mix over the top of it. Cover and chill for an hour before serving. If the salad looks too dry, add a little more olive oil and balsamic vinegar, toss and serve.
Linking to:
Made by you Monday
,
Delicate Construction
,
Be Different Act Normal