We're trying a traveling story time hour this summer. I've planned a few different outings that will have a go along book and an easy craft or activity. So far, it's been a lot of fun!
We did story time at a local ice cream shop yesterday. While the kids ate some ice. I read them the book,"The Ice Cream King" by Steve Metzger. This is a book about a boy that goes for ice cream with his mom. As he tries to decide what to order, he imagines that he is king of his own ice cream land. It's all very exciting, until he realizes something is missing...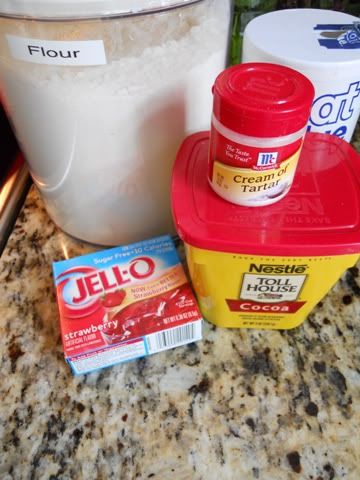 Using a standard homemade play dough recipe, I made a batch of "Neapolitan ice cream" to take with us. After making the dough, I split it into 3 balls. To make the strawberry ice cream, I added a box of sugar free strawberry jello to one ball and baking cocoa added to another ball made the chocolate ice cream.
Strawberry, vanilla, and chocolate play dough ice cream!
Little J made an ice cream taco.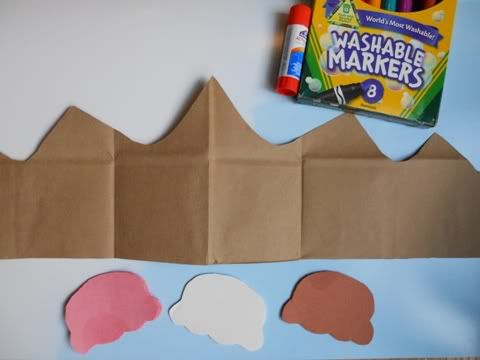 For our craft I made crowns from brown paper bags and cut out scoops of ice cream for the kids to decorate.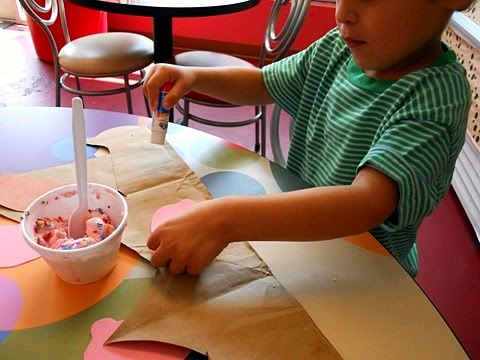 Jackie at Ready, Set, Read! has a great list of books for various occasions. Jackie is a reading specialists and I think you will enjoy her blog quite a bit.
Don't forget to stop back tomorrow for the "Summertime Fun Party".
Linking to:
Read, Explore, Learn!
,
For the Kids Friday
,
Field Trip Friday at Chestnut Grove Academy
,
Play Academy at Nurture Store
,
Fun for Kids Friday
,
Weekend Bloggy Reading
,
Share the Fun Friday at Little Lucy Lu
,
Be Different Act Normal
,
Fingerprints on the Fridge
,
Link and Learn
,
Come Together Kids