I almost didn't do this project with Sassyfras and Juiciness. I had done it with Little J when he was their age, so I thought we could skip it now. Deborah, from Teach Preschool, just wrote a post on doing the old tried and true projects with the new generation. It may be old to us, but it's new and exciting to them. I'm so glad I decided to put it out this week.
I set out some plates of paint (yellow, blue, and green) along with some paper and toy cars and trucks. They raced their cars along the page and made little beeping and braking noises as they painted.
Next, I gave them a piece of paper that was already painted and had them experiment with putting the cars through the paint. A light bulb went off and they started looking at the tire treads before and after they marked the paper.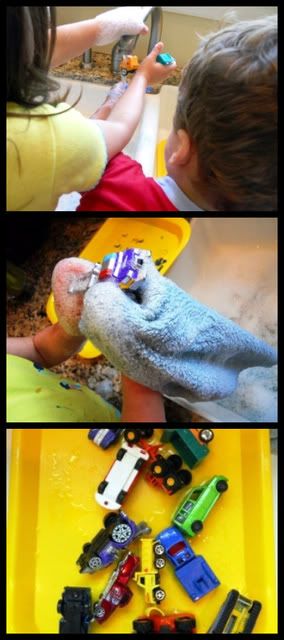 When my car gets dirty, we go to the car wash. We call it the rainbow car wash because of the colors of the soap. So, I set them up at the sink and let them wash their cars. The water almost looked like rainbows with the paint swirling around. I think they enjoyed this part of the project the best!
Our go along book was The Little Dump Truck by Margery Cuyler. This book is aimed at the preschool crowd. It's about a cute little dump truck and his work through the city.
Linking to:
stART at A Mommy's Adventures
,
Read Explore Learn