"Bonjour"! That's French for a fancy hello! Sassyfras has fallen in love with "Fancy Nancy, Bonjour Butterfly" this week. She carries it around and "reads" it to Juiciness and anyone else that will listen. I thought we could do a little fancy butterfly lunch today (I owe Juiciness an "all boys" lunch next week!).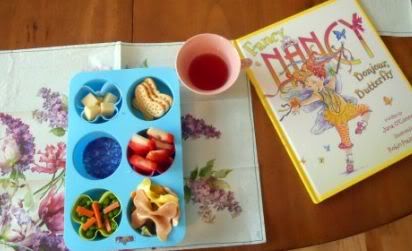 Cheese cubes with butterfly crackers, purple sugar sprinkles with sliced strawberries, fresh spring peas with some carrots, butterfly pasta (found at World Market), and cranberry juice in a fancy teacup.
They both loved this meal and Sassyfras thought it was very fancy.
Summer bucket list party, May 6th.
I hope you come back and link up your list!