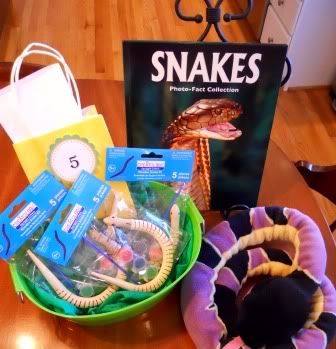 Yesterday was day 5 of our lucky 7 countdown to St. Patrick's Day. "Snakes" was our theme. We visited an amazing serpentarium and will finish some of our planned activities today.

Snakes, Photo Facts Collection by Jane P. Resnick is a great snake book for showing various snakes and snippets of information. We saw many of the snakes in this book at the serpentarium we visited.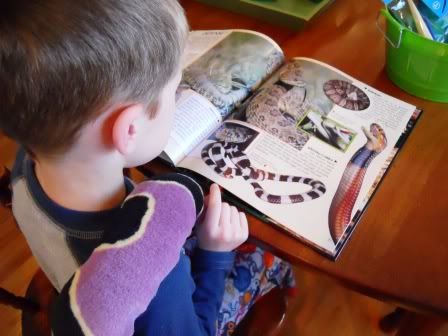 Little J loved this book...maybe a little too much!
From top left to right:

emerald tree boa, cobra, anaconda, eastern green mamba.
Gaboon viper
The serpentarium was filled with the world's most dangerous snakes, most of them caught by the owner himself. There were cobras, bushmasters, vipers, a taipan, an array of constrictors, and many, many more.
We were able to see a live feeding which I hope impressed upon the kids a great respect for these creatures. I was amazed at how well these animals' colors and markings allow them to camouflage into their native surroundings. We all enjoyed this day.