Today's theme is Leprechauns and gold. We've read various St. Patrick's day books over the past week that tell the legend of the leprechaun. We'll be reading an excerpt from the DK's books, Rocks and Minerals about gold and iron pyrite. I bought a few pieces of pyrite to show the kids.
Word has it, that the leprechaun is tricky and will leave something like this pot of treats.
I repurposed our Halloween cauldron and filled it with Lucky Charms for breakfast, some outdoor toys for spring break, and some chocolate coins and kisses. We'll probably find that the sneaky little Leprechaun plays some other fun tricks on us too.
Misc
This pizza snake was an after school snack earlier this week. I bought pizza dough from a local pizzeria and rolled it out like a snake. Using Wilton spray food coloring, I painted them green and used chocolate chips for their eyes. The pizza sauce is from Trader Joe's. The kids L-O-V-E-D them!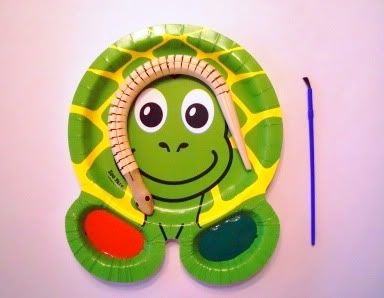 We finally got around to painting their wooden snakes. I found these in the dollar bins at Michael's.
Now they run through the house chasing each other with them saying, "HISSSSS" as loudly as the possibly can!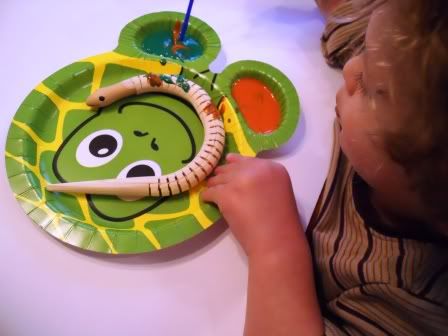 We did a little yellow and blue paint mixing.
I kept telling them, "Yellow and blue make green". When I asked Sassyfras, "What do yellow and blue make?" She said, "Gorgeous!". I think she's been watching too much Max and Ruby!
The day that we did St. Patrick, we pretty much just read the book St. Patrick by Gail Gibbon. It's a great book for telling facts and legends of St. Patrick.