Welcome to our "Happy Friday Night"! This week I decided to go back to a Mardi Gras themed date night and will be making Bananas Foster and a Pimm's cocktail. I've only made Bananas Foster once in the past and wanted to practice before our date night. (Such suffering I have to do :) It's a relatively simple dessert to make and let's face it, even if it doesn't turn out perfectly it's gonna be good...bananas, sugar, rum, and ice cream, seriously.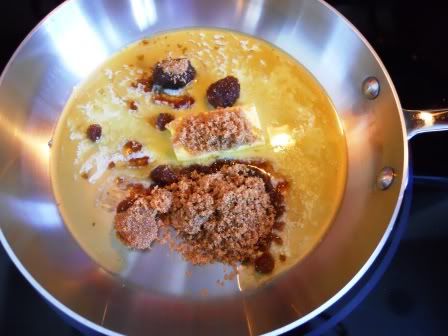 Heat butter, brown sugar, and banana liqueur in a pan over medium heat.
I used the recipe from Brennan's Restaurant in New Orleans, but changed it a little to our taste. I used 3 tablespoons of butter and about 1/4 cup of brown sugar.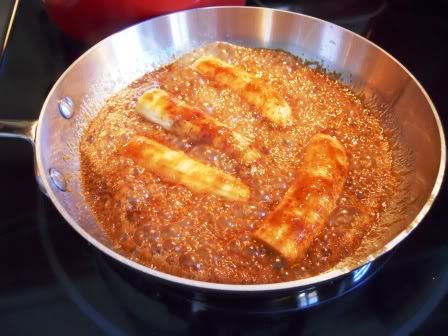 Add banana's when the sugar has melted, sprinkle with cinnamon.
When the butter and sugar are melted, add your quartered banana pieces. Spoon the sauce over them, but try not to disturb them. Once the bananas are soft, you can carefully add the rum. If you choose to ignite the rum (I did) let it cook out a little and be very careful!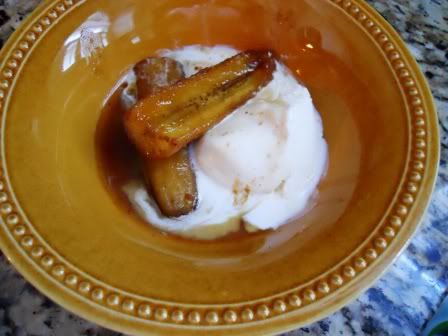 Spoon bananas and sauce over vanilla ice cream. I used Haagen Daz.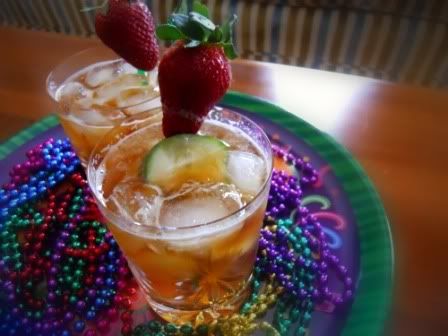 Pimm's Cocktail
Dr. Wonderful and his family are originally from New Orleans and this is why I chose to do a Mardi Gras themed night. I had to research drinks and found that Pimm's cocktails are popular. Guess what? Dr. Wonderful has never heard of it! lol. Anyway it's good and easy to make.
Mix 1 oz of Pimm's Liqueur with a good squeeze of fresh lemon juice in a shaker of ice. Shake, and pour ice and all into a glass. Top with 7-Up. Supposedly you can garnish this drink however you want, but should always include a cucumber slice, go figure. I have no idea why and would love to know why.
If you've done something special and would like to share, feel free to link up and join our Happy Friday Night!