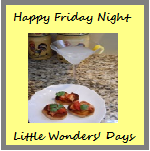 If you're new to my "Happy Friday Night" posts you'll need to know that my husband and I look forward to Friday night as our little "date night at home" so to speak. I make an appetizer and cocktail, sometimes it's simple and other times more elaborate. But whatever it is, it is after the kids are in bed and we can relax. When the weather is nice we sit on the deck, other nights we hit the sofa.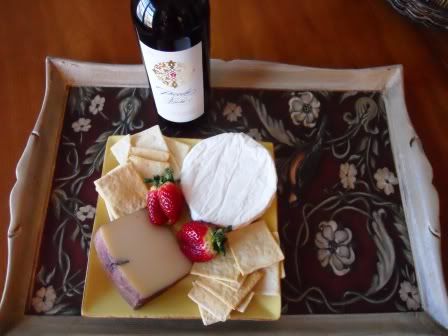 I've prepared a cheese and cracker plate for tonight and paired it with a red wine. Both cheeses are from local dairies that make artisan cheeses. This is an easy, yet delicious, appetizer to make ahead of time. I have it wrapped and in the refrigerator for later.
Many of you have shared that you have a similar date night routine. Please join the party and share what you do to nurture your marriage (keep it PG please). It can be a recipe you enjoy, a special trip, movie time, a devotional, or whatever you feel appropriate. I can't wait to see what inspirational ideas you have.
The party link will be open all week!