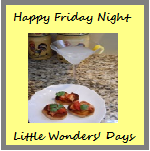 If you're new to my "Happy Friday Night" posts you'll need to know that my husband and I look forward to Friday night as our little "date night at home" so to speak. I make an appetizer and cocktail, sometimes it's simple and other times more elaborate. But whatever it is, it is after the kids are in bed and we can relax. When the weather is nice we sit on the deck, other nights we hit the sofa.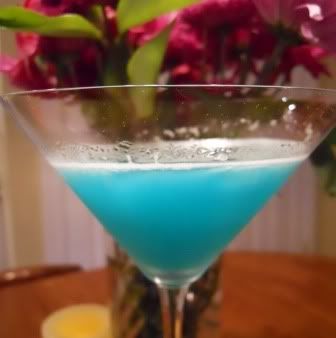 I made hot artichoke dip with nachos and a drink called the blue lagoon.
Put into a shaker with ice and shake, strain into a martini glass. You can find a similar recipe
here
.
2 cups chopped, marinated artichoke hearts (I buy the large jar from Costco)
8 oz softened low fat cream cheese
1 cup shredded Parmesan cheese
1/2 cup low fat sour cream
Mix all ingredients together and put in a baking dish. Cook at 350 until hot and bubbly. Nice to serve with nacho chips, pita chips, Carr's crackers, or even carrot/celery sticks.
Many of you have shared that you have a similar date night routine. Please join the party and share what you do to nurture your marriage (keep it PG please). It can be a recipe you enjoy, a special trip, movie time, a devotional, or whatever you feel appropriate. I can't wait to see what inspirational ideas you have.
Happy Friday Night!