I've spent the past year teaching Juiciness and Sassyfras the sounds of each letter. We used something similar to sandpaper letters to trace the shape as they learned the sounds. They have most of the letter sounds down, but are still needing help with a few. I thought it was time to start introducing beginning letter sounds to reinforce their learning. This week we are doing letter "P".
Pizza is a fun way to talk about the letter "P"! We read the books Curious George and the Pizza by Margret and H.A. Rey and Pizza at Sally's by Monica Wellington. Pizza at Sally's is written by the author of Apple Farmer Annie and has the same general writing style. It has the pizza dough recipe in it that we used today.
While the dough was rising, we made pizzas out of the letter "P". I put a piece of yellow paper through the shredder to make "cheese" and then punched red circles and marked them with the letter "P" for pepperoni. We pasted the "P" on purple paper.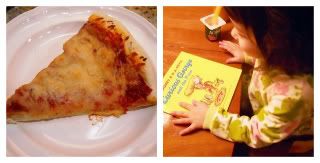 And finally, "P"izza was ready for dinner!