Reading Gingerbread Friends by Jan Brett and making cookies were yesterday afternoon and evening's activities.

(The energy that some of you think I have, well it was snoring quite early last night, hence no posting.)
I know she's mine, but she was so darn cute making her people, especially in her little apron.
This one couldn't wear an apron because our Star Wars people would be covered up! Can't have that now.
I think I may have redeemed myself on the cookie front. These actually look like gingerbread people (and one shark) plus they taste great! I used this recipe here, also having the dry ingredients ready to go made this afternoon so much easier.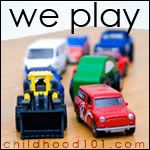 Come over to play at the Childhood 101 We Play link up.