We started our morning off by reading our advent bible verse and setting up our manger. Everyone is in school today, so we saved our activities for later in the afternoon.
Today's advent activities were all about Christmas trees! We started the day by reading Mr. Willowby's Christmas Tree by Robert Barry. This book is about a man that has a large Christmas tree specially ordered and delivered to his house only to find it too large. He has the top cut off and it is passed along to someone that loves it, but also finds it too large. This happens over and over in the book until the tree is completely used.
Then we set to work making M&M cookies, but we used a special baking pan that I found at Walmart. It's in the shape of a Christmas tree. I used the recipe for Nestle Toll House chocolate chip cookies, but substituted M&M's for half of the chocolate chips. Bake at 350 until a toothpick comes out pretty clean. Ours took about 25 minutes.
I premeasured the dry ingredients and then gave Sassyfras and Juiciness turns scooping it into another bowl. I thought it would be less chaotic for me and good practice for them, plus they could feel like they helped bake the cookie.
While the cookies baked, we set up little Christmas trees in their bedrooms. The trees are small enough to fit on their dressers, but enough to make the room festive and special.
We made mini paper chains to decorate them too. I cut strips of scrapbook paper into 1/2 inch by 6 inch strips and we used double sided tape. This craft was too difficult for Juiciness and Sassyfras, so I gave them Christmas stickers to put on the papers and they enjoyed that. We made the chain extra long, so that when we finished one tree, we could split it and finish another tree...sort of like Mr. Willowby's tree.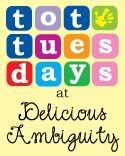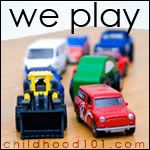 Come over to play at the Childhood 101 We Play Link Up.