I've been rotating our pretend play boxes for the past few weeks and have been seeing lots of dramatic play in our house...even when the prop boxes aren't being used. I've shared our post office box here and our bakers box here.
During the first few times we open a new prop box, I spend time playing with the kids and demonstrating how one would play with the items. After awhile, they get the idea and then play just takes off from their ideas.
Little J's box
Apron and gloves, tools, garden markers, and real lettuce seeds to plant now. Little J has access to my garden books and other tools with supervision.
Today I'm sharing our gardener's box. My aunt gave Little J this wonderful tool box this past summer. I've fill his with real tools to help in the garden and then made another box for Juiciness and Sassyfras that were a little less dangerous, but they could still use for real if they wanted.
Juiciness and Sassyfras's box
Contents
Gardening gloves and aprons
Seed packs and empty bulb box
Recycled applesauce containers to use as pots
Shredded brown paper for dirt
I had each child choose a flat of pansies they liked during a recent nursery trip.
We made a visit to a garden shop last week to buy some mums and pansies as well as some lettuce seeds. As soon as the weather is right, we will take our garden boxes outside and do our planting.
In the meantime, we've been reading Strega Nona's Harvest by Tomie dePaola. It is a great book to read this time of year.
We'll be making some little scarecrows to add to our garden beds later this week.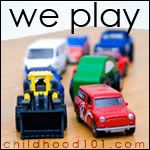 Come play at the Childhood 101 We Play link up.