We have a few prop boxes for pretend play that I rotate in and out of the playroom. They are simple clear storage containers that I fill with various items. Some of the ones we have are: florist, baker, doctor, and post office.
Today I pulled out the post office box. It contains miscellaneous writing papers and old cards, stamps, writing tools and other office supplies, and an old blue shirt to look like the postal workers' uniforms. I also saved up a pile of junk mail and the little slips in magazines that they think are postcards to include.
We made a trip to the post office yesterday to mail Little J's thank you notes from his birthday party. The kids were able to see where we bought stamps, different letters and packages, people coming in and out with different items, and their favorite-the mail trucks. I thought this would be a good time to put the box out and let them play.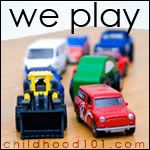 Come play at the Childhood 101 We Play link up.