I find that once the dog days of summer hit that the early morning hours, like 7:00AM, are the best for park outings. It's much cooler, all the kids are in good moods, and there are fewer crowds. Daddy was home today, so we headed to our favorite diner for chocolate chip pancakes and sunny side up eggs and then over to the park.
We found this little guy watching us from a nearby tree.
I usually bring a park bag with us, but today no one asked for it. I keep the usual sand toys, a ball or two, some small trucks, a few extra bottles of water, and a mini first aid kit

(the kit is a clear pencil case that contains band-aids, Bactine spray, an instant ice pack, Little J's epi pen and Benadryl spoon-bee sting allergy)

in it.
The park bag is the sturdy mesh kind that I can turn upside down and shake the sand out of before returning it to the trunk of the car.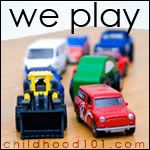 Come play at the Childhood 101 We Play link up.