Lisa at Nanny Diaries had a wonderful summer bucket list idea of having a water gun fight. So fun and so summer!
We used Evite to invite some friends over for a "Show down at sun down", although we had to reschedule twice! Once for our schedules and once for a huge thunder storm. It was worth the wait.
The kids had a blast filling up their water guns and being allowed to really drench everyone. The only rules were to not aim for anyone's face, if someone asked you to stop to respect them, and not be a wimp and ask that too many times! We had a refill station that was a squirt free zone, so if you needed a break you could hang out there.
After our play we wrapped up in beach towels and sat out on the deck and had root beer floats. It was such a simple and fun playdate. We all decided that it needed to become a summer tradition!
Lisa is a nanny for 6 lucky kids. She plans so many wonderful activities and fun learning experiences for the them. I hope you stop by and visit her blog!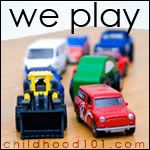 Come play at the Childhood 101 We Play link up.